Business data has become an indispensable asset that cyber criminals are always after. According to Accenture, security attacks increased by 31% between 2020 and 2021.1 The existing cybersecurity measures placed by businesses, individuals, and governments are outstripped or rendered obsolete by the increasingly sophisticated hacking techniques. Companies are upgrading their enterprise security systems and employing more effective tools to deal with external threats.
This is where the zero trust security model and remote browser isolation (RBI) come into the picture. A zero trust approach maintains strict access control by assigning the least access privilege and authenticating users throughout a session. The zero trust philosophy emphasizes the assumption that no accessor can be trusted.
Similarly, web isolation technology treats all website content as potentially dangerous – with maximum caution. RBI protects enterprise resources by isolating browsing activities in a remote environment and away from the user.
Web browser isolation solutions offer a seamless internet browsing experience. RBI maintains the integrity of enterprise data and ensures that employees surf the web as usual on the public internet without the risk of running into web-borne threats. RBI offers all of this without compromising the website's content, look, functionality, and user experience.
Download our latest ebook, Remote Browser Isolation: Everything You Need to Know to learn more about how RBI secures enterprise resources from malicious content on the web.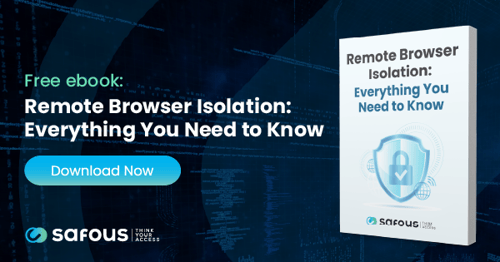 Following are some of the key benefits of remote browser isolation for businesses looking to enhance their cybersecurity posture.
All-Round Threat Protection
RBI protects users from several types of web-borne threats they may contract while using a browser. Web isolation sandboxes browsing activities and protects data, users, devices, and networks from risky domains. It deals with threats including malware, ransomware, zero-day exploits, or browser vulnerabilities like plugins, infected file downloads, malicious web links or ads, and phishing emails.
Enables Safe Downloads
Drive-by downloads are one of the most common ways for attackers to install malware and gain unauthorized access to enterprise networks. RBI protects from these malicious downloads and drive-by download attacks. With remote browser isolation, files are downloaded to a remote server and scanned before the user gains access. Moreover, after every browsing session, all cookies and downloads acquired during the session are deleted.
Data-Loss Prevention
There are several variables through which organizations can lose their valuable business data. Remote browser isolation helps keep data safe from corruption or theft by averting targeted attacks hidden in web pages, plugins, and downloaded content. In addition to these concealed threats, saved passwords, synchronized data, and autofill are also some of the easily exploitable areas in a browser. RBI ensures the data from these fields is cleared out after every session. Enterprise administrators can also control file download and upload, which prevents sensitive data leakage caused by user error.
Protects From Malicious Scripts
Web pages and web applications consist of JavaScript, HTML, and CSS. Malicious JavaScript is dangerous as browsers automatically run JavaScript from the page. Isolating browsing sessions means raw web codes from any app or website are executed away from the user. Apart from risky codes, it keeps enterprise browsers safe from threats such as redirect attacks, cross-site scripts, and click-jacking.
Keeps Out Zero-Day Exploits
Zero-day exploits happen when attackers find a way to exploit software vulnerabilities before the developers become aware of them. Cybercriminals need a way to interact with these code vulnerabilities through email, attachments, or extensions. While no single solution can tackle problems arising from code disparities, remote browser isolation significantly reduces this risk by keeping malicious content at bay.
Safe Surfing With Seamless Access
Even highly credible websites can contain malvertising, unwanted redirects, or bad scripts. Browser isolation can keep users safe from these threats without putting a bar on accessibility. Unlike traditional browsers, employees can connect to any website or service – safe or unsafe – without risking their systems getting infected by viruses, malware, and fraudulent links.
RBI: A Fine Addition to Your Enterprise Security Systems
There is no denying that the web is an essential part of multiple business processes requiring internet access. Given the rise in cyber threats and breaches, businesses need to take every action to prevent bad actors from causing disruption and stay compliant with the regulatory standards.
Looking at the increased sophistication of cyber attacks, businesses need a reliable solution that supports RBI to strengthen their enterprise security systems. Web isolation goes hand-in-hand with the zero trust security model. At the same time, both these technologies are highly scalable and capable of dealing with the cyber threats of the foreseeable future.
Safous offers advanced ZTNA technology with an RBI component for organizations seeking a safer and threat-free virtual environment. We excel at cybersecurity so that your enterprise can access a secure digital ecosystem.
Test our capabilities today! Register for a free demo.
Protect your enterprise data
Subscribe to our newsletter and receive the latest updates in cybersecurity news and much more – right in your inbox.
Source
Subscribe with Safous
Receive the latest news, events, webcasts and special offers!